Cleveland, Ohio

A Neighborhood Exploration

Currently

301

articles regarding its history



Calgary Avenue
From Brooklyn Centre Wiki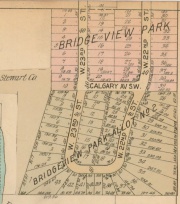 Location:
South of Denison Avenue between West 23rd St and West 22nd at the northern boundary of Calgary Playground.
Dedicated as public street:
10 Oct 1938[1]
Background:
Although the reason for naming the street is unknown, the fact that the name is listed in the 1936 Cleveland City Directory, which is two years prior to the official dedication, suggests that it existed as a private street until the owner gave up fee ownership, upon which the city took over the care and maintenance of the road.
It is a Gaelic name which apparently translates to "clear running water". "There are two possibilities for the origin of the name Calgary in Scotland. The name may be derived from two Gaelic words, 'caladh' and 'garaidh' ('the haven by ... See Morethe dyke') or alternatively from the Old Scandinavian personal name 'Kali' and 'geiri', suggesting 'Kali's triangular plot of land'. Also, kald and gart are similar Old Norse words, meaning 'cold' and 'garden', that were likely used when named by the Vikings who inhabited the Inner Hebrides. Alternatively, the name might come from the Gaelic, Cala ghearraidh, meaning 'beach of the meadow (pasture)'."[2] Was the landowner, at the time of the street naming, fluent in Gaelic? The somewhat triangular bluff, upon which Calgary Park is now situated, may be the inspiration for this particular name.
So far, the earliest appearance of this street is on a 1924 map titled Wagner's New Complete Pocket Map of Cleveland.
It's possible that the property south of Calgary Ave. (that portion that now comprises Calgary Playground) may have been lost for non-payment of taxes and as a consequence, the city took over the street.
References
↑ Public Administration Library at Cleveland City Hall
↑ See Scottish Place Names at http://www.rampantscotland.com/placenames/placename_calgary.htm