Cleveland, Ohio

A Neighborhood Exploration

Currently

301

articles regarding its history



Merkle-Miller
From Brooklyn Centre Wiki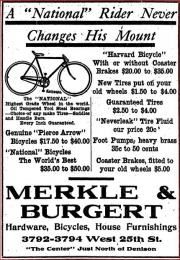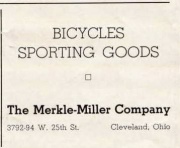 Location:
3792-94 West 25th St., Cleveland, Ohio
Owner:
Chris (Christian) Merkle was partners with Burgert in 1908, and then with Fred J. Miller by 1909. Chris was the son of Archwood Ave. residents, Jacob and Julia (Heinrich). At this time, no further information is available regarding Burgert or Fred J. Miller. Merkle died in 1944.
Business:
Initially, the main products sold were bicycles, bicycle parts, hardware, and household furnishings. The partners expanded into automobile parts around 1915. They also did contract heating work.
---
Help support this website by visiting some of the Ads provided by Google.