Cleveland, Ohio

A Neighborhood Exploration

Currently

301

articles regarding its history



West Town Lounge
From Brooklyn Centre Wiki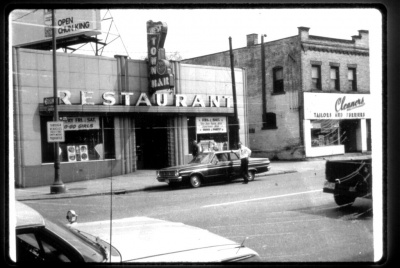 Location:
3809 West 25th Street
Owner:
Sam and Judita Uhlin
History:
Opened in April of 1948 after the Uhlins spent $125,000 on the establishment.
By 1951, newspaper items mentioning West Town, Chuck Spinner and Dom Georgian are noted as the impresarios who modernized the night club, which boasted a mirror paneled room capable of holding 300. Former Hollenden House chef, Ernie Gerisch, manned the kitchen.
The club had its legal woes when it was raided in March of 1958 by the police vice squad and state liquor agents over complaints of underaged drinking. Some of the young clientele were only 16 years of age and were carrying false identification. The owner, Marguerite Spinner was also cited for failure to have a license to serve food.[1]
Another raid on the club came in August of 1959 with another youthful patron was served alcohol.[2]
Perotti Tavern, Inc. at this address was charged with sales to a minor.[3]
Continuing with illegal practices seemed to be a habit for the West Town. In 1961, liquor agents found that the club was one of many that were refilling bottles with cheaper liquors.[4] For this offense, they lost their license for 30 days.
Apparently, the West Town wanted only attractive bar maids since that is what their ads specified.
The West Town Lounge begat the Westown Bar begat the Cheeks Nightclub, a business men's club featuring exotic dancers.
References
---
Return to Main Page
Help support this website by visiting some of the Ads provided by Google.