Welcome to the
Brooklyn Centre WIKI

Cleveland, Ohio

A Neighborhood Exploration

Currently

301

articles regarding its history



Lyle Court
From Brooklyn Centre Wiki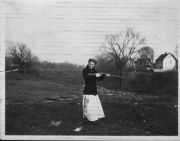 Post-1906 name:
West 22nd Place
Original Owner:
Capt. Ozias Brainard
Development:
Part of the "Park Addition" of "Curtiss, Foster, and Sprague".
Notes:
This street originally ran north from Denison Avenue to the southern edge of a ravine that extended from West 25th St easterly to Jennings Avenue. To reach Forestdale Avenue, a footbridge was constructed over the ravine.
The question that pops to mind is who built this footbridge and who maintained it? Was it the developers group Curtiss, Foster, and Sprague, was it John Stanton Fish, or was it built by the city?
When the ravine was filled in during the early 1920-30's, West 22nd Place was extended thru to Forestdale and the footbridge needed to be dismantled.
---
Return to Main Page
Help support this website by visiting some of the Ads provided by Google.