Cleveland, Ohio

A Neighborhood Exploration

Currently

301

articles regarding its history



St. Barbara's Elementary School
From Brooklyn Centre Wiki
(Difference between revisions)
Line 34:
Line 34:

==== SBS School Dedication Film ====

==== SBS School Dedication Film ====

:[[Media|St. Barbara's School Dedication]] -- 1925 film of the new school dedication. Of particular interest are the students, nuns, priest, playground, a view of the church building (later a hall) that was at the corner of [[Petty St.|West 15th Street]] and Denison Avenue, and a parade down [[Newburgh St.|Denison Avenue]] complete with some old time cars.

:[[Media|St. Barbara's School Dedication]] -- 1925 film of the new school dedication. Of particular interest are the students, nuns, priest, playground, a view of the church building (later a hall) that was at the corner of [[Petty St.|West 15th Street]] and Denison Avenue, and a parade down [[Newburgh St.|Denison Avenue]] complete with some old time cars.

-
-
-

= Notes =

-

<references/>
---
Revision as of 14:02, 16 June 2009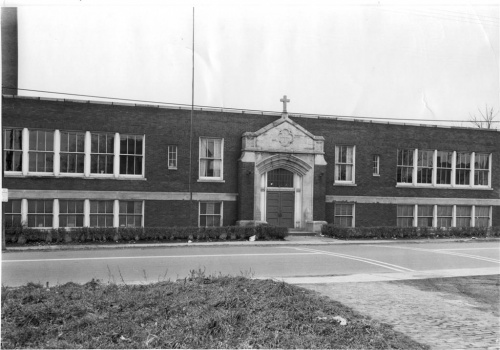 SBS School History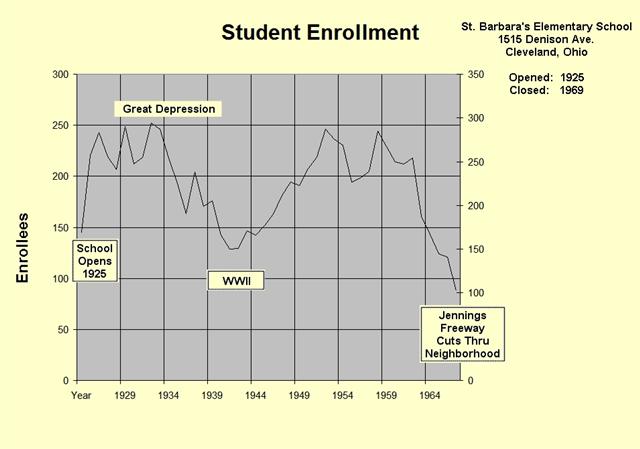 Built in 1925 and dedicated on October 11th of that year, St. Barbara's Elementary School was located at 1515 Denison Ave. The elementary school of St. Barbara's served the Polish community by providing education for children from Kindergarten thru 8th grade. Kindergarten classes weren't offered until the mid-1940's.
The main entry way was in the center of the building and led up to the upper floor. There were also doors on the east and west sides of the building that allowed easy exit from the lower floor. There may also have been an exit on the south side of the school that led to the playground, but I don't recall ever using it so it may have been blocked off by the 1950's.
The upper floor had four classrooms with some grades doubling up when the class sizes were too small to warrant their own room. Also on this floor was the Principal's office and the nurse's room.
The lower floor not only had two classrooms, but also the lavatories, boiler room, and the church. Later, after the church was moved to it's new building on the corner of West 15th and Denison Ave., the church area was turned into a gym where the children could exercise, have lunch, and watch movies.
Each classroom had what was referred to as a "cloak room" where students could hang up their coats on hooks that ran along the wall. There was no such thing as individual lockers. The cloak room typically ran along the width of the room and had an entrance at each end.
The Sisters of Saint Joseph order served as teaching staff at the school. The nuns lived in the convent house located behind the school building. The convent was originally a wood frame house. Later it was moved to Botany Ave near West 14th St. and a new brick convent was constructed on the old lot on West 16th St.
When the Jennings Freeway construction carved up part of the neighborhood surrounding the school, enrollment dropped dramatically. By 1968, only 103 students had signed up. Regretfully, the school closed its doors for good after that school year due to economic reasons. Afterwards, the school building was torn down and the land paved and used as a parking lot.
SBS Class Lists
See the St. Barbara Class Lists for a complete list of students who attended the school from the time it opened until it ultimately closed its doors forever.
SBS Photo Album
See the St. Barbara's School Photo Album for class Communion and graduation pictures.
SBS School Dedication Film
St. Barbara's School Dedication -- 1925 film of the new school dedication. Of particular interest are the students, nuns, priest, playground, a view of the church building (later a hall) that was at the corner of West 15th Street and Denison Avenue, and a parade down Denison Avenue complete with some old time cars.