Cleveland, Ohio

A Neighborhood Exploration

Currently

301

articles regarding its history



West Town Lounge
From Brooklyn Centre Wiki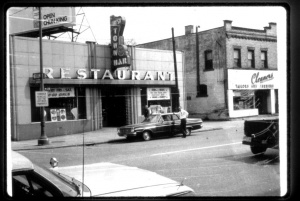 Location:
3809 West 25th Street
Owner:
Sam and Judita Uhlin
History:
Opened in April of 1948 after the Uhlins spent $125,000 on the establishment. By 1951, newspaper items mentioning West Town, Chuck Spinner and Dom Georgian are noted as the impresarios who modernized the night club, which boasted a mirror paneled room capable of holding 300. Former Hollenden House chef, Ernie Gerisch, manned the kitchen.
---
Return to Main Page
Help support this website by visiting some of the Ads provided by Google.