Cleveland, Ohio

A Neighborhood Exploration

Currently

301

articles regarding its history



Farmers and Merchants Banking
From Brooklyn Centre Wiki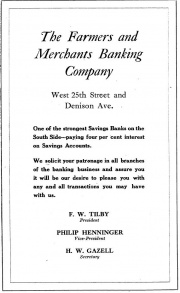 President:

Location:
1898 Pearl St., Cleveland, Ohio (SE Corner of West 25th St. and Denison Ave.)
Background:
Prior to the bank being built on this corner, it was the home of Erotus H. Bush's general store. After the bank closed, the bank later became the site of the Nut House Bar.

Footnotes:
↑ Jefferson's position as President of the bank was noted in the 1899 Cleveland City Directory
↑ Jefferson FISH and John Stanton FISH were 2nd cousins. Their common ancestors were Capt. Jonathan FISH Sr. and Abigail FISH.
Return to Main Page
Help support this website by visiting some of the Ads provided by Google.