Cleveland, Ohio

A Neighborhood Exploration

Currently

301

articles regarding its history



Hurley Avenue
From Brooklyn Centre Wiki
Pre-1906 name:
Earliest known name was South Street. At some point, most likely in the 1890's, the street was renamed as Hurley Street.
An 1895 obituary for Harry R. Fish lists his address as 11 Hurley St. So we can assume that the street name had changed by then though it is unclear who would have made the mystifying name change.
[EDIT 2013-Oct-14: In 1894, the city, in an effort to eliminate duplicate street names renamed South Street to Hurley Street. Thus the name is arbitrary and not one associated with anyone in particular.]

Post-1906 name:
Hurley Avenue

Location:
South of Denison Avenue, between West 21st and West 23rd.

Development: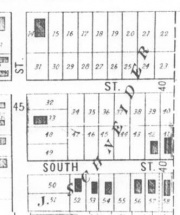 In 1853, Jacob Schneider, a piano manufacturer, purchased village lot no. 33 of Moses Fish survey bounded as follows on Chestnut Street 132 feet, and on Spring Street Sixty Six feet- containing 32 rods of land and also village lots of Moses Fish Survey Nos. 14 thru 27, and 33 thru 53. The seller was Alexander Ingham and his wife, Lydia [sister of Moses Fish, first landowner of the south half of original Lot #65.]
In 1884, the first sublots sold by Jacob Schneider appear to be #55,56,57,58 on what was then called South Street. The buyer was Estella A. (Sackett) Oviatt. Two years later, she and her husband, Martin J. Oviatt, also bought sublot #53. When she died in 1921, they were living at 3903 W. 23rd St.

Named for:
Unknown. It is, perhaps, the most curiously named street in Brooklyn Centre as it appears to have no connection to any owner discovered so far. Also, Hurley is most often used as an Irish name, but Jacob Schneider was German. From the etymology of the name we find: "one who came from Hurley (homestead in a corner), the name of places in Berkshire and Warwickshire."[1]
One possibility is that the street was named for one of the popular baseball players of the time, Jerry Hurley. Another possibility is Tom Hurley, who served as an umpire in one of the local amateur leagues.
References
---
Return to Main Page
Help support this website by visiting some of the Ads provided by Google.