Cleveland, Ohio

A Neighborhood Exploration

Currently

301

articles regarding its history



Denison Square Theater
From Brooklyn Centre Wiki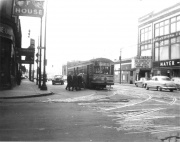 AKA:
Dennison Square Amusement Company[1]
Dennison-Square Theater
Owners:
Ohio Amusement Company (???? thru ????)
Associated Theaters (1930 thru ????)
Location:
3842 West 25th St., Cleveland, Ohio
Managers:
David L. Schumann - 1915
Kenneth Reid - pre-1935
I. M. Anderson (succeeded Reid in 1935)[2]
History
The Denison Square theater opened in September, 1915 to coincide with the grand jubilee festivities celebrating the opening of the Brooklyn-Brighton Bridge. It was positioned at the southeast corner of the Mayer-Marks furniture store, which also opened that month.
Under the supervision of David L. Schumann, the theater set out to become an unique establishment by having only employees who had red hair. The first employees were Walter A. Sheer, assistant manager; Rhoda Strelow, cashier; Rhea May Sheer and Miss A. O'Donnell, ushers. (Walter Sheer was the son of George and Rose Sheer. Rhea was Walter's wife.
In addition, Nat E. Solomon served as an organist playing a big pipe organ. It is unknown where the organ was positioned in the theater. On either side of the stage were two water fountains.
The first moving picture shown in the theater was "The Dawn of Tomorrow" starring Mary Pickford.
Total seating capacity of the theater was 784.
Both Ohio Amusement and Associated Theaters in all likelihood, probably leased the building. Was it from the Denison-Square Association?
Upon entering the theater in those days, the screen was hidden behind thick velvet curtains. The seats were upholstered in a velvet-like material. When the movie was ready to start, the curtains would slide apart to reveal the screen. It was standard to see a double feature, cartoon, previews of coming attractions, and sometimes a newsreel.
During the 1940's, Polish language films would occasionally be shown to cater to the Polish residents in the area.
During the 1950's, once a week between the double feature, a part of a dinnerware set would be given to the moviegoer. This was a technique used to draw in people to come to the movies every week. One week you might get a saucer, the next week a dinner plate, and then a cup, etc.
By the end of the 1950's, television was seriously cutting into the profits of movie theaters. People didn't have to rely on movies for their entertainment and the theaters were in danger of closing down. To encourage waning business, Tommy Edwards disc jockey at WADC Akron, began emceeing live contry music shows at the Denison Square. The first show was on June 4, 1960[3]. The following year, on Dec 1, 1961, Edwards opened his country music store, Hillbilly Heaven, across the street.[4]. Not long afterwards, Edwards lamented the fact that it was difficult to get people out to support these country music acts.
References
---
Help support this website by visiting some of the Ads provided by Google.