Cleveland, Ohio

A Neighborhood Exploration

Currently

301

articles regarding its history



Foster St.
From Brooklyn Centre Wiki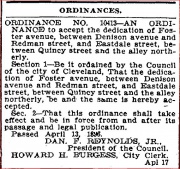 Post-1906 name:
West 14th Street
Location:
From Redman Avenue to Botany Avenue
Development:
1898
Cleveland City Council approved the dedication of Foster Avenue in 1896[1] (see image to the right).
Developer(s):
Named for:
Ebenezer Foster, early owner of this portion of Lot #74. He owned the area from the southern lot line of Lot #73 (which was marked by a chain link fence behind the houses on Redman Avenue), to the Cuyahoga River to the east, to Denison Avenue on the south, and roughly around the old East Denison Elementary School lot to the west.
NOTES
↑ Ordinance No.10413 notice: Cleveland Leader newspaper, April 17, 1896, page 11, column 6.
---
Return to Main Page
Help support this website by visiting some of the Ads provided by Google.