Cleveland, Ohio

A Neighborhood Exploration

Currently

301

articles regarding its history



Mike's Gulf Station
From Brooklyn Centre Wiki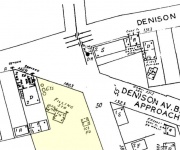 Owner:
Mike Varshal
Location:
Corner of Denison Avenue and West 14th St.
Mike's station sold Gulf Oil products (gas, oil, etc.) He also had a couple of bays in which he repaired and serviced cars. The station was torn down when the Jennings Freeway was built.
---
Help support this website by visiting some of the Ads provided by Google.