Cleveland, Ohio

A Neighborhood Exploration

Currently

301

articles regarding its history



Original Lot 74
From Brooklyn Centre Wiki
1815
The line of ownership for Original Lot 74 of the Western Reserve began with Capt. Ozias Brainard, an early settler, who arrived here in 1813 and died soon after in about 1822. He purchased Lot 74 in 1815 from Richard Lord.
1823
Upon his death, his 160 acres of property were carved up into six long (north to south) lots, each going to one of his daughters.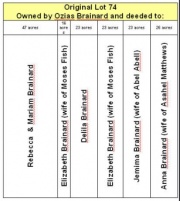 From west to east they were:
47 acres - to Rebecca and Mariam Brainard
16 acres - to Elizabeth Brainard (wife of Moses Fish)
23 acres - to Delila Brainard
23 acres - also to Elizabeth and Moses Fish
23 acres - to Jemima Brainard (wife of Abel Abel)
26 acres - to Anna Brainard (wife of Asahel Matthews)
1831
48 acres of the eastern part of Lot 74 were sold to Alexander Ingham (Ingraham). His wife Lydia, was sister to Ebenezer FISH Jr. and Moses FISH the owners of Lot 65, and to Abigail Fish, wife of Ebenezer Foster Jr., (who was to eventually come to own this section).
1836
30 acres of Alexander Ingham's portion of Lot 74 was sold to his nephew Daniel C. Foster. Daniel then sold this land to Ebenezer Boyden and John Boyden, whose wife was Daniel's Aunt Eunice, the sister of Lydia (Mrs. Ingham) and Abigail (Mrs. Foster).
1852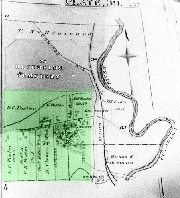 By 1852, the northwest corner was owned by Wesley and Elizabeth (Foster) Trowbridge. Elizabeth was the daughter of Daniel C. Foster. The middle north section was owned by Leonard Gurley Foster (son of Ebenezer Foster Jr.). The northeast corner was owned by Ebenezer Foster Jr. and his son George N. Foster. The southern half of Lot 74 was owned (from west to east) by:
Leonard C. Pixley (nephew of Ebenezer Foster Jr.)
Edwin H. Foster (son of Ebenezer Foster Jr.)
Foster & Gates (Edwin H. Foster and _____ Gates)
Miriam Eldridge (daughter of Seth and Deliliah Brainard)
Gates, Curtis, & Foster (_____ Gates, ______ Curtis, and Daniel Foster) or (Howard C. Gates, Joseph Curtis, and Edwin H. Foster) <---verification needed
Daniel C. Foster (brother of Ebenezer Foster Jr.)
Property Developers

LOT 64:
Hanna Estate • Stewart Land Company
LOT 65:
LOT 74:
Consolidated Oyster Packing • Curtis, Ambler, and Pixley • Curtis-Ambler Realty • Curtiss, Foster, and Sprague • Ebenezer Foster Heirs • Edwin H. Foster • Gates and Foster • Gates, Curtis, and Foster • K,L,&J (Kroehle, Luce, & Jenman) • Kees and Bruch • Leonard G. Foster • Leonard Pixley • Petty and Baldwin • Sprankle Realty • William Mallo
Help support this website by visiting some of the Ads provided by Google.