Cleveland, Ohio

A Neighborhood Exploration

Currently

301

articles regarding its history



Masek Glue Co.
From Brooklyn Centre Wiki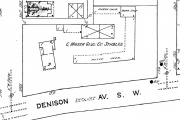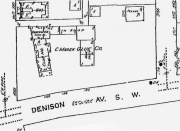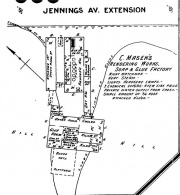 Owner: Charles Masek (1857-1943)
Charles Masek was a manufacturer of Glue and Soap. He opened his business in 1884 at the age of 27. His wife was Barbara Froula.
Charles owned the property at 1320 Denison Ave. at the northeast corner of West 14th St. and Denison Avenue. Aside from a house, there were also horse stables on this property along the eastern and northern edges.
This site was later home to the Merrymen's Club. It is presently unknown as to whether the large two story house was actually built for Charles Masek, or even for the original landowner, Ebenezer Foster.
The club headquarters was built of very dark red or brown brick and had porches for both the lower and upper story. A large crabapple tree of maybe 20' to 30' high, at the southwest corner of the property, provided substantial shade, not to mention a few treats for the kids passing by. The apples were sour and usually enhanced by a bit of salt.[1]
In 1918, a new factory was built at 4076 Jennings Avenue after the original one was burned down. The director and treasurer, Karl F. Snow, supervised the construction.[2]
In these early days, the environmental impact on the Cuyahoga River must have been substantial from all the waste water produced in the glue making process. This waste water would be high in ammonia and nitrates. Even filtration through sand did not remove those two pollutants. In addition, the foul smells that eminated from the plant would have wafted throughout the Barbarowa neighborhood just up the hill to the west.

Notes
↑ Barbara Sinur remembers this tree a bit differently. She says it was a pear tree.
↑ A History of Cleveland and Its Environs, By Elroy McKendree Avery, pg 326 (The book refers to the factory as the C. Macsek Glue & Reduction Company)
Return to Main Page
Help support this website by visiting some of the Ads provided by Google.